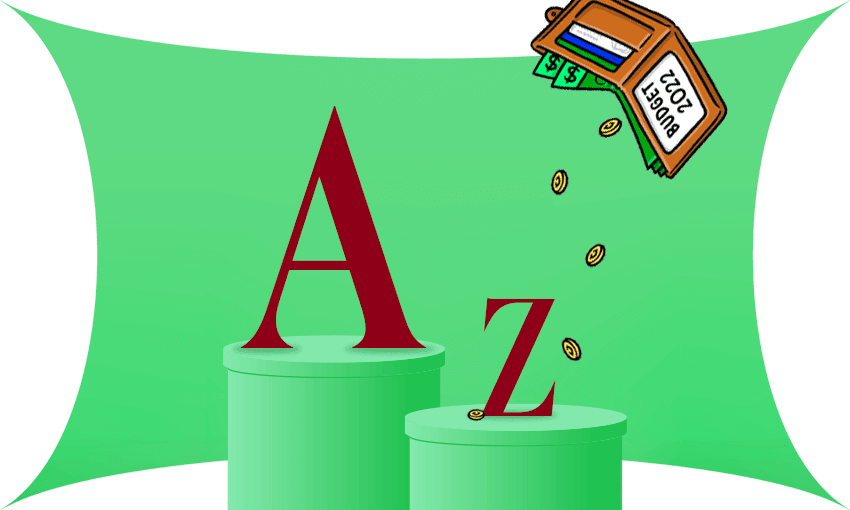 From aspiration to zoom: the alphabet of the 2022 budget
Budget 2022: It's a big week for big spending – get ready for Thursday with 26 points of interest.
A
is for Suction, Ambition and All that
With Covid-19 no longer absorbing all the energy and a nice six billion dollar bonus spend, Finance Minister Grant Robertson will seek to weed out some of the familiar ambitious and ambitious clichés associated with budgets over the years. Another sobering A is adaptation: expect to see a lot of money poured into programs for those whose homes are at risk of being destroyed by climate-induced rising seas.
B
is for Balance
The budget is inherently about balancing the books – or at least defining how they will be balanced in future years. But this year, Robertson said "balance" every two minutes in budgeting and used it in another sense – to mean balancing priorities, such as today's needs against future challenges. long term. Expect more of that on Thursday. See also: bracket creep, the phenomenon that pushes wage earners into higher tax brackets even when they no longer earn money in real terms.
VS
is for Cost of life
Robertson sought to downplay expectations of something major in the budget to deal with the cost-of-living crisis. So there's bound to be something, and it's likely to be more than half-price public transport expansion, that might even be included as part of the emissions reduction plan to be released today (Monday), this which means that C is also for carrot, the one that goes with the stick.
D
is for Deficit and debt
A perennial, this one, but worth remembering. The deficit measures how much more comes out of government coffers than comes in during a budget year. The national debt is the amount owed, in full. Related: The opposite of deficit is surplus – when more money comes in than goes out in a budget year. After a series of Covid-induced deficits, they forecast a return to surplus in 2024/25.
E
is for Emissions
Climate is one of the two major stated priorities of the 2022 budget (health is the other) and will be part of the third part of what we will call "emissions season". The first part was about the broadcast budgets, which won cross-party support last week, and set out the number of broadcasts to be cut over the next 15 years. The second part is the Emissions Reduction Plan, released today (Monday); it's huge, just detail How? 'Or' What these emissions will be reduced (some probably will not; they will be bought from abroad). On Thursday, we'll see how those costs are allocated to the $3.7 billion Climate Emergency Response Fund, which is in turn funded by revenues from New Zealand's emissions trading system. Do you have all that? Sorry.
F
is for Tax
The budget is the centerpiece of fiscal policy. "Fiscal" simply describes a government's collection of dosh, primarily through taxation, and its expenditures.
Ahead of that budget, Robertson has now announced new fiscal rules for budgets, including a "net debt ceiling" of 30% of GDP (gross domestic product). This increase is designed to "buffer" economic shocks and enable infrastructure spending to increase productivity and combat climate change. "It makes sense for us to spread the costs of these investments over time," said the finance minister.
g
is for Global
In budgetspeak 2022, there is no inflation, cost of living crisis or energy crisis. There is only one global inflation, one global cost of living crisis and one global energy crisis
H
is for Health
Along with climate, health is the other exceptional budget item, to cover the countless costs of setting up Health NZ and the Maori Authority while dismantling and sucking up the 20 DHB debt. In the detail of expenditure, there are bound to be clues as well to some of the structural and political decisions that have been taken on the new configuration.
I
is for Inflation
Currently trading at nearly 7%, the highest in three decades. One of Robertson's trickiest challenges to – that word again – balance is how to spend more money without further increasing this inflation. Just nobody says the word stagflation.
J
is for Jargon.
Budget day is a big day for acronyms like Befu (the economic and fiscal update released on budget day) and Obegal (operating balance before profit and loss, as you know).
K
is for Key, Max
The unexpected new critic and conscience of New Zealand fiscal policy.
L
is for Luxollis
National leader Christopher Luxon and finance spokesman Nicola Willis, whom no one has described as Luxollis so far, made an impressive start to their duties and for the first time took on the task of analyzing, deciphering and rebuke the budget. They also have to strike a balance: combining ruthless criticism with a clean, restrained, statesmanlike tone.
M
is for Monetary Policy
A cousin of fiscal policy, these are money supply and interest rates, which are largely within the purview of the NZ Reserve Bank.
NOT
is for ties
So you've got your budget, you've got your money, and then there's the third piece of the puzzle: cravatomancy. As explored in this explosive article, the pattern and color of the tie worn by the Minister of Finance, if said Minister of Finance wears ties, is a powerful omen of the contents of the budget. The Finance Minister's Budget Day tie pick has in recent years fallen to Jacinda Ardern.
O
is for Operating allowance
The operating allocation is new operating funding available for a budget, announced in advance based on the government's financial statements. This year it's $6 billion – a lot. Again, by spending this, the government does not want to trigger more inflation.
There are two types of expenses: operating expenses (ongoing) and capital expenses (one-time).
P
is for Oil and Public transport
Gasoline prices encapsulate the tension between immediate cost of living challenges and ruinous long-term climate change. It is likely that the fuel tax cut will be extended beyond June. It seems almost certain that the halving of public transport fares will be extended – and underlined in the rhetoric. Because P is, after all, also for polls.
Q
is for Cost of life
Following the disruption of supply chains and high demand for words like Covid and Cost (of living), the letter Q has been asked to shoulder some of the burden.
R
is for Rabbit
Will Robertson pull one out of the hat on Thursday? He has sworn against "untargeted tax cuts", but there could still be a surprise, and it would surely be a cost-of-living initiative. A forensic medicine target even tax reduction? Wrap the bulk of dental health in the new health service? Make Ka Ora, Ka Ako, the program of healthy school canteens, universal? R is also for recession: "The chances of the New Zealand economy going into recession are increasing day by day," BNZ economist Stephen Toplis said the other day.
S
is for Security
Along with "balance", the words "security" and "secure" have been identified by The Spinoff's team of semantic analysts as high turnover language in budget preparation. In the midst of global uncertainty, Robertson will tell us that he has found the balance and will provide economic security.
J
is for Passage

The "just transition" is centered on the economic implications of reducing emissions – in particular, where does this leave the people and communities whose jobs will disappear as we shift into high gear on the path to zero carbon ? This will likely be an important line item on Thursday.
you
is for Unemployment
Despite the Covid upheavals, the unemployment rate is at an all-time low of 3.2% – no doubt this will be called back.
V
is for Verbiage
While some dig into the fine print, others look for a catchy shortcut to sum it all up. Most are too boring or deranged to stick in the memory – Michael Cullen's "chewing gum budget" of 2005 being an obvious exception. In 2022, I bet someone on the opposition benches will call it the "Ram Raid Budget".
O
is for Welfare
After the bells and whistles of 2019, it's now all about wellness budgets, and every budget outlay must, in theory at least, pass through the wellness scanner. If they really want to lean this year, Grant Robertson has to stand at the dispatch box on Thursday and say the cost of living is important, yes, but what about the cost of magnet crisis?
X
Is for Xi
Xi is a Greek letter that has been ignored as a Covid variant name. Xi Jinping is the president of China. Taken together in a desperate attempt to find something for 'X', they make a case for diversifying New Zealand's export markets. Throw the geopolitical nerves brought on by the Ukraine invasion into the mix and this project takes on added urgency – there's every chance Robertson is throwing money at exporter initiatives to spread that risk.
Yes
is for Yolo
Really.
Z
is for Zoom
On Saturday morning, Jacinda Ardern announced that the coronavirus had caught her. That means she'll have to use Zoom (or whatever government-mandated equivalent) to participate in any budget discussions. Hopefully she was prepped and bought Robertson's tie early on.
---
Follow our political podcast Gone By Lunchtime on Apple podcast, Spotify or your favorite podcast provider.