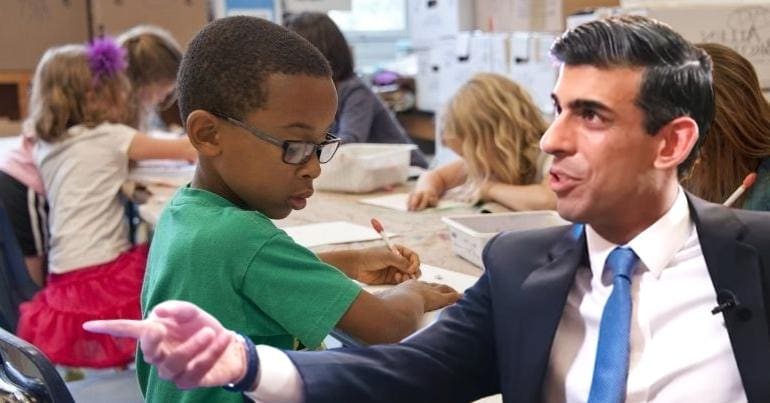 Government wipes £1billion from education budget next year
Support us and be ad-free
The Tories will make a £1bn cut in real terms to the education budget in 2023. This is the analysis of a campaign group which previously revealed the huge cut in school funding by the government. He asks Prime Minister Rishi Sunak to increase the education budget. But will he listen – especially since he promised to restore education spending in real terms at 2010 levels by 2024/5?
Stop school cuts
Stop school cuts is a campaign group linked to the National Education Union (NEU). In 2015, he showed that by 2020 the government would give 83% of schools in England less in real terms. At the time, the Institute for Fiscal Studies (IFS) think tank supported Stop School Cuts, saying:
This analysis shows that most schools will have experienced reductions in real terms in school funding per pupil between 2015 and 2020 once you take into account confirmed funding allocations and the likely costs schools will face.
Now the group has done another analysis. It has been found that next year even more schools will face cuts in real terms.
Conservative £1billion cuts
Stop school cuts says the government will cut funding for 90% of schools in 2023:
🚸90% of schools face cuts next year🚸@RishiSunak 40 schools in your constituency are expected to lose over £100 per pupil in real terms.

Continue reading…

You promised to "restore per pupil funding in real terms". Don't break this promise to children and school communities. Reverse #SchoolCuts pic.twitter.com/Zo92zOzplZ

– Stop School Cuts (@SchoolCuts) November 8, 2022
As Stop School Cuts wrote, the The Tories will cut £1billion in total – affecting more than 18,000 schools. The group noted that:
For millions of children, these reductions will mean larger classes, fewer subject choices and less individual support for children. For teachers, this means more pay cuts in real terms, more unmanageable workloads and less time to teach each child.
So the group wrote a open letter to Sunak. It said:
In the 2021 spending review you promised to 'restore funding per pupil to 2010 levels in real terms', but with rising costs schools now face a £1 billion real cut pounds sterling next year. A total of 18,060 schools are facing cuts, with millions of affected children losing an average of £146 per pupil in a year. After a decade of real cuts to school budgets and teacher pay, school communities simply cannot afford further cuts.

The government will spend £324 less per pupil in 2023 than in 2015 in real terms. Teachers suffered pay cuts in real terms during the same period.
12 years of austerity in education. Is there more to come?
The Stop School Cuts analysis comes after 12 years of previous cuts. The The IFS has previously said that the government's education budget between 2015/16 and 2019/20 against:
the largest reduction in school spending per student over a four-year period since at least the early 1980s and would bring school spending per student back to about the same level in real terms as in 2010-2011.
Now it looks like Sunak's government is making the problem worse. So, Stop School Cuts threw the gauntlet at the Prime Minister. He asked him if he wanted:
Reverse the cuts facing schools next year?
Ensure that earned salaries for school staff are fully funded?
Are you keeping your promise to restore funding per student to 2010 levels in real terms?
While the government is already putting austerity on the cards, it remains to be seen whether or not Sunak will honor his 2021 pledge to restore education funding in real terms. So it's likely that Stop School Cuts will still have a lot of work to do in the future.
Image selected via Unsplash and Rishi Sunak – YouTube