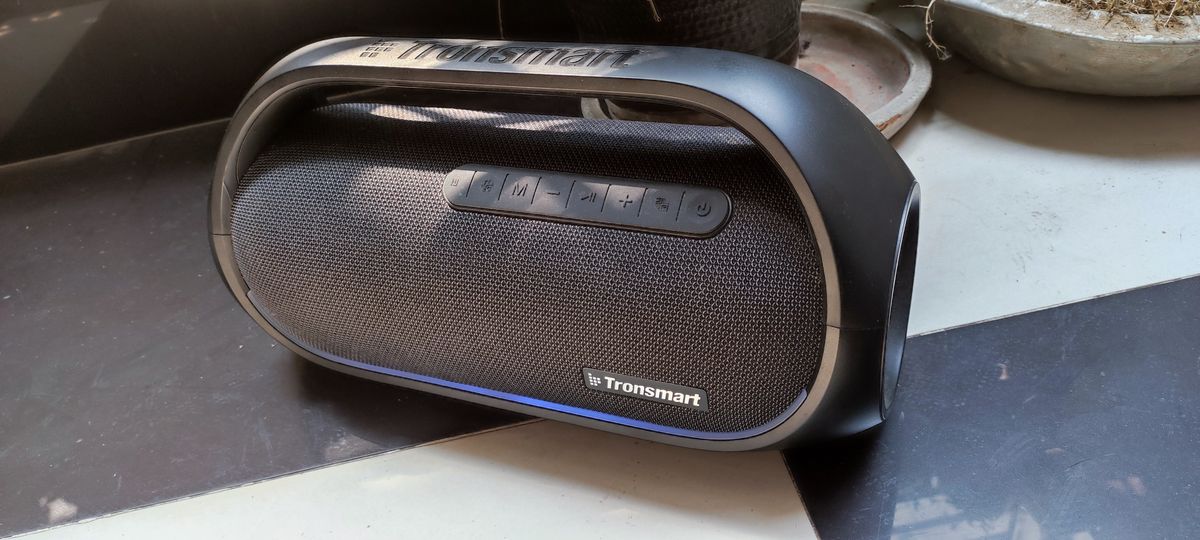 Tronsmart Bang review: The ultimate outdoor party speaker on a budget
Tronsmart makes excellent Bluetooth speakers and true wireless headphones. What's even better is that most of them don't cost an arm and a leg without compromising audio quality. The Tronsmart Bang is one such speaker designed for outdoor use and created with portability and ruggedness in mind. Other specifications also take into account these purposes of use.
What sets the Tronsmart Bang apart from most cheap Bluetooth speakers is the built-in multi-color light strip and a few other features. What will probably excite you the most is the price: only $110 for this gigantic speaker that produces a very loud sound. So if you're looking for a spectacular party speaker that will survive a few dunks in the pool without breaking the bank, the Tronsmart Bang is a strong contender. Should competitors be favored? The answer is a bit more complicated than a simple yes or no.
Loud and cheerfully cheap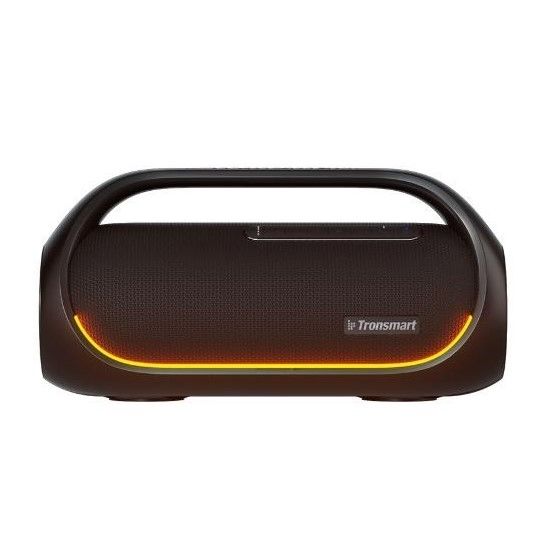 Tronsmart Bang
The Tronsmart Bang Bluetooth speaker falls in the budget segment but tries to shoot for the stars. The combination of a 10,800mAh battery, powerful and rich 60W sound, a responsive light strip and plenty of ports make this a pretty good deal. Add IPX6 waterproofing and you have a nice and affordable outdoor speaker.
Tronsmart Bang review: Price and availability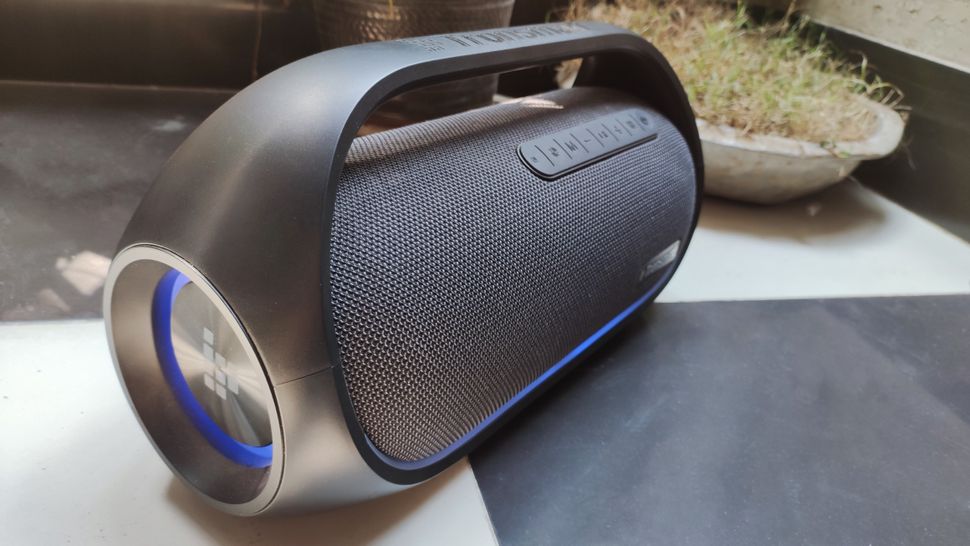 Tronsmart announced the Bang outdoor speaker on March 8, 2022. Currently, you can buy it from Geekbuying or AliExpress in most countries. An Amazon US launch is imminent, but there is no exact launch date available yet. Based on previous releases, it is likely that we will see the Tronsmart Bang on Amazon by April.
The Tronsmart Bang is only available in one color variant and that is black. You can buy the Bluetooth speaker for $110 on all available platforms.
Tronsmart Bang review: What you'll love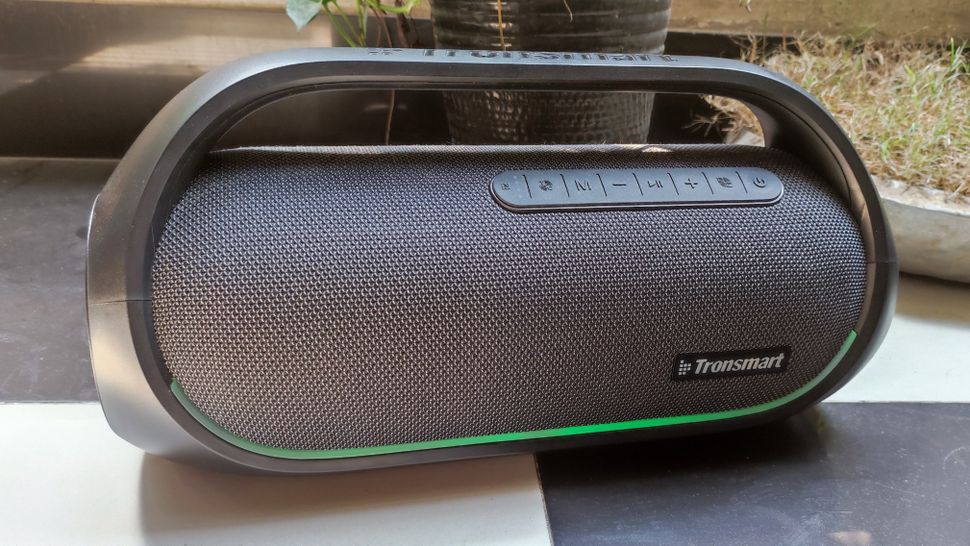 Although it may be very affordable, the Tronsmart Bang does not look cheap. You get a solid build that feels durable, and the fabric covering the speaker is premium. Considering the top handle, physical buttons, strip lighting and overall attractive look, the design is quite appealing. I like that the light reacts to music, but you can also set it to emit a single color through the app or turn it off to save battery. In essence, the Bang looks a lot like a JBL speaker without the cool light strip, and I like that.
The IPX6 waterproof rating of the Tronsmart speaker is suitable for pool parties, beach outings or camping trips by streams or rivers. At 6.79 pounds, it's also light compared to other outdoor speakers, weighing almost half of its most direct competitors. The handle has a matte finish which is smooth and adds grip, making the audio equipment very portable.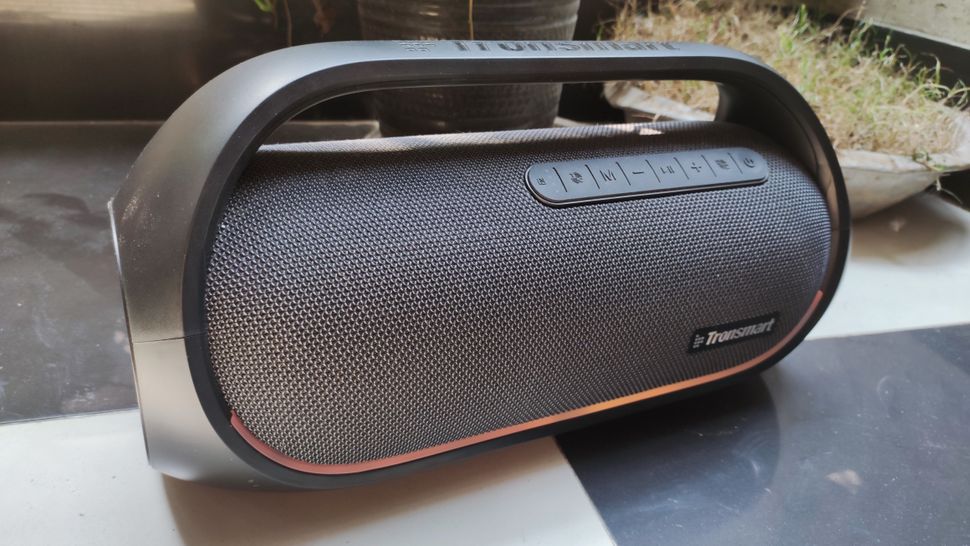 You can listen to music in many ways, whether it's via Bluetooth, NFC or a 3.5mm headphone jack. Tronsmart is generous enough to include an auxiliary cable in the box. The Tronsmart Bang can be used as you wish, even without depending on another device. Looking to save your phone battery? Get a microSD card or USB hard drive and listen to music instead.
Tronsmart delivers exactly the kind of sound you need from such a loud outdoor speaker. The Tronsmart Bang 60W is super loud, but the best part is that it doesn't lose clarity or crackle. You can crank the volume all the way up and Speaker Bang will still play you tunes with just the right amount of bass, crystal-clear vocals, and audio quality beyond satisfactory overall. There are eight equalizer presets in the app which are adequate. Tronsmart's exclusive TuneConn technology lets you pair and sync up to 100 Bang speakers together, all producing rich, bass sound in unison.
With the lights off, the Bang party speaker is rated for 15 hours and you come close to it in real life at medium volumes. Increasing this obviously reduces uptime. You can expect around 10 hours with the flashy lighting off at high to maximum sound levels. Speaking of battery, the Tronsmart Bang's 10,800mAh cell can be used as a power bank in a snap. I found this very handy when having an outdoor barbecue with the family. I turned off a light from the Bluetooth speaker after dark, which proved its ingenuity as a portable outdoor accessory.
Tronsmart Bang review: what's better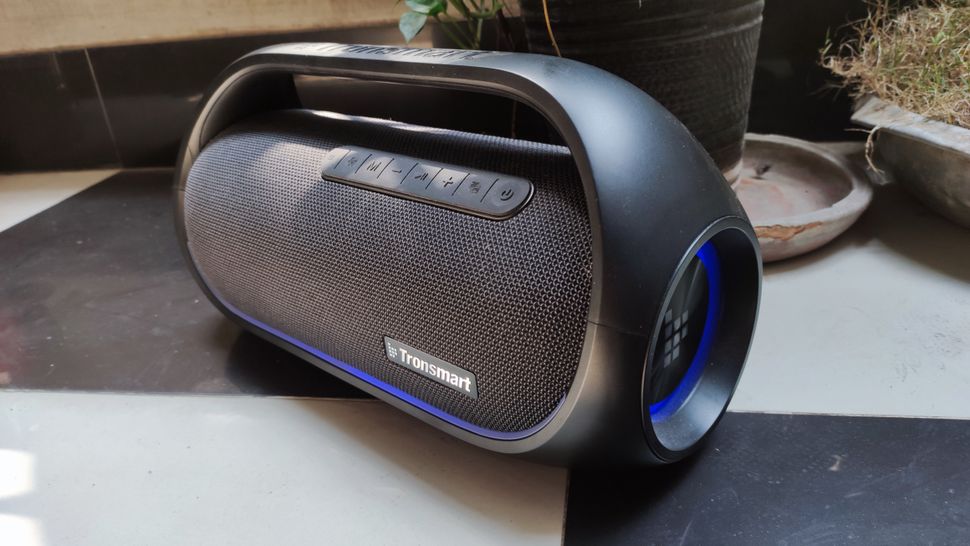 Tronsmart is so right, but there are a few issues that need to be addressed. Let's start with the biggest problem I've faced. Setting up the Tronsmart Bang the first time is not a consistent experience across all devices. Even if your phone is equipped with the latest Bluetooth chip, it may take some time to discover the audio device at first. It can be awkward and somewhat annoying. After the initial Bluetooth connection and setup, the connection process is smooth and efficient.
Another one of my issues is with the physical buttons on the Bang speaker. Matte black silicone buttons set in matte black plastic make them completely unreadable. This is not even a new problem, it dates back to the Tronsmart Force Bluetooth speaker. You literally have to point a flashlight at the buttons for visibility, even in daylight. Since this defeats the purpose of making the controls accessible, the readability issue renders the buttons completely useless.
Finally, the Tronsmart Bang definitely has room for improvements in the battery segment. We are about to take a look at the most potential alternatives to the Tronsmart Bang and this will enlighten us further. Most other similar outdoor speakers are rated for 24 hour battery life. Sure, they don't last as long at higher volumes, but they come close.
If you have to keep the lights off to get anything close to the Bang's 3pm availability as advertised, that really takes away from its value proposition. Not using one feature to get another discourages people from buying the Bang over competing products.
Tronsmart Bang review: Competition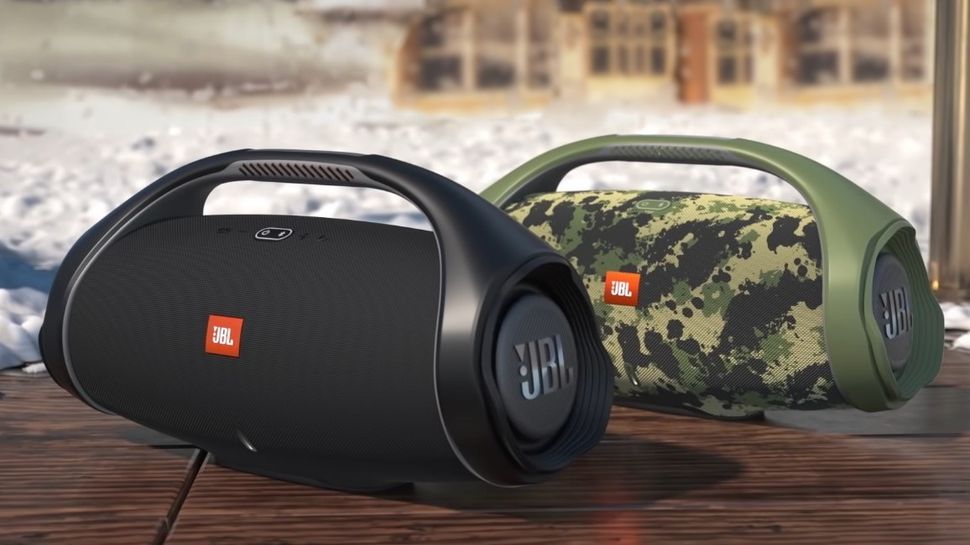 There's no shortage of fantastic Bluetooth speakers at various price points. The humble Tronsmart Bang speaker meets its match in the form of the more sophisticated JBL Boombox 2. You get an IPX7 rating over Tronsmart's IPX6, 24-hour battery life instead of 15, and a new Bluetooth 5.1 module at the instead of Bluetooth 5.0. JBL is famous for its incredible audio quality, and the Boombox 2 excels in this category. However, it costs almost five times as much as the Bang, has no lights and has no SD card and USB drive reading.
Set your goals much lower and you will find that the affordable Anker Soundcore Motion Boom is a perfect alternative to the Tronsmart Bang. For one thing, it costs the exact same price as the Tronsmart speaker. While the Soundcore Motion Boom sounds abysmal, the speaker's ability to float in water makes up for its hideous appearance. You get the same IPX7 rating, 24-hour battery life and connectivity as the JBL Boombox 2, but again there's no ambient light responding to music or playback options. versatile such as an SD card.
Tronsmart Bang review: Should you buy it?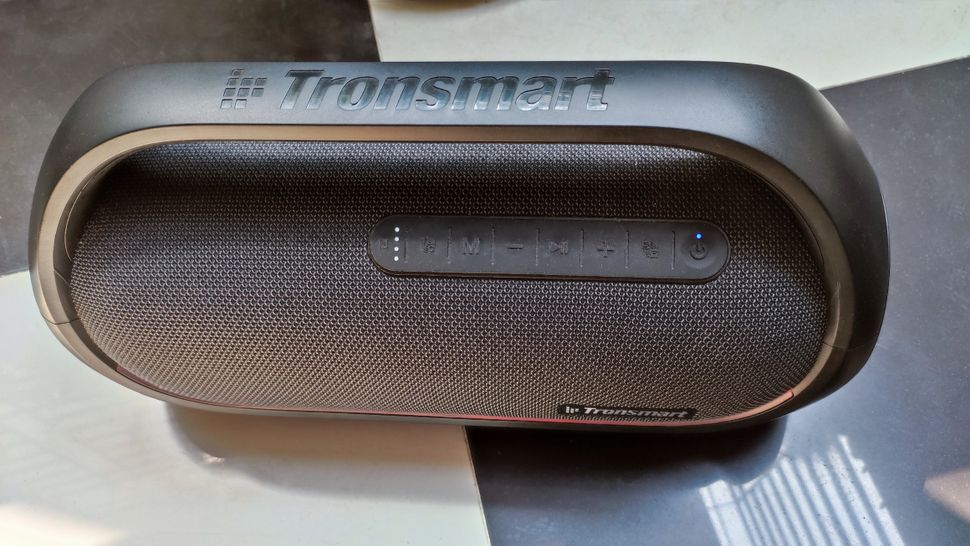 You should buy it if…
– You need a budget outdoor speaker
– You want many playback options
– You would like to have a light that responds to the music
– Looking for something light
You shouldn't buy this if…
– You need 24 hour battery life
– You can't stand unreadable buttons
– You don't have patience for a wayward Bluetooth setup
Tronsmart brings a few unique features to the table, hopefully that's enough to keep you away from JBL and Anker. The Bang Bluetooth speaker is attractive, lightweight yet sturdy, and best of all, sounds spectacular outdoors. It might not have an IPX7 waterproof rating, but IPX6 is the next best thing. The buttons are hard to spot, but you can just use the companion app to make things easier.
What you won't get from other speakers on the market of a similar nature is lighting that changes with the music and playback compatibility with USB sticks and SD cards. This, in our eyes, makes up for the slightly lower battery life of 15 hours. You don't miss anything major, and the added benefits of getting the Tronsmart Bang are pretty cool. All of this for a lower price makes this outdoor Bluetooth speaker a worthy purchase.
bang for money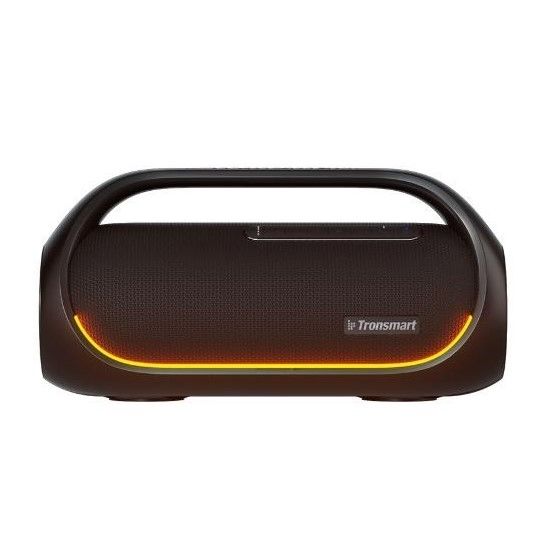 Tronsmart Bang
Tronsmart gets the party started with a bang. You get powerful, high-quality sound that reverberates through the air from a rugged waterproof speaker. You can customize the sound and lights, and there are plenty of ways to connect. All of this for a bargain price makes it a great value buy.